NATO

Alliance Type

Military Alliance

Formation

4 April 1949

Headquarters

Brussels, Belgium

Number of Members

26

Official Language(s)

English French

Website

The North Atlantic Treaty Organization (NATO); French: Organisation du Traité de l'Atlantique Nord (OTAN); (also called the North Atlantic Alliance, the Atlantic Alliance, or the Western Alliance) is a military alliance established by the signing of the North Atlantic Treaty on 4 April 1949. Headquartered in Brussels, Belgium, the organization constitutes a system of collective defense whereby its member states agree to mutual defense in response to an attack by any external party.
For its first few years, NATO was not much more than a political association. However, the Korean War galvanized the member states, and an integrated military structure was built up under the direction of two U.S. supreme commanders. The first NATO Secretary General Lord Ismay, famously described the organization's goal was "to keep the Russians out, the Americans in, and the Germans down". Throughout the Cold War doubts over the strength of the relationship between the European states and the United States ebbed and flowed, along with doubts over the credibility of the NATO defense against a prospective Soviet invasion - doubts that led to the development of the independent French nuclear deterrent and the withdrawal of the French from NATO's military structure from 1966.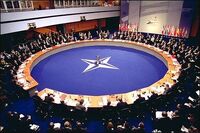 After the fall of the Berlin Wall in 1989, the organization became drawn into the Balkans while building better links with former potential enemies to the east, which culminated with the former Warsaw Pact states - except Albania - joining the alliance in 1999 and 2004. Since the September 11, 2001 terrorist attacks, NATO has attempted to refocus itself to new challenges and has deployed troops to Afghanistan and trainers to Iraq.
Community content is available under
CC-BY-SA
unless otherwise noted.